My husband, my 20-month-old daughter and I often stop for a bite of frozen yogurt after dinner out. In fact, my daughter's serving size really is a bite of sorts, and I don't mean that she just gets a spoonful or two from my yogurt cup.
Rather, my husband and I have hit upon a trick for giving our daughter a small frozen yogurt serving when we're out that makes our little one feel like she's getting her own treat and that also costs us nothing, a strategy for a frugal frozen yogurt fix for the toddler and little kid set that is today's hint.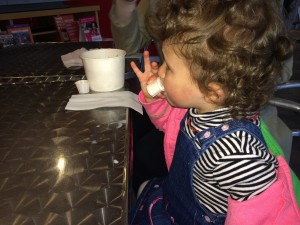 The trick: We ask for a few sample-size cups that we pile together (to make a sturdy inedible cone of sorts) and then fill up with plain vanilla frozen yogurt at our local self-serve yogurt shop. We then give our daughter her "yogurt cup" and she slurps the yogurt right up with lots of "yums" and "mmms" along the way. And if she finishes her treat quickly, we easily fill it up with extra yogurt from our cups.
So far, we haven't been charged for our daughter's yogurt samples, as she's really just eating a flavor taste that yogurt shops give out for free all the time. In addition, I like that the sample size cups are very small, so we're not wasting money on a big serving of yogurt that our daughter wouldn't be able to finish and that we wouldn't want her to eat all of anyway.
Plus, by letting our daughter enjoy some yogurt, we're getting some calcium into our little milk hater (the site What to Expect says that one cup of ice cream or frozen yogurt counts as one serving of calcium for a toddler).
Don't have a self-serve frozen yogurt shop by you? This trick doesn't just work in self-serve frozen yogurt shops. At shops where an employee does the cup filling for you, you could just ask for a tiny sample cup of one of the flavors and give that tiny cup to your child.
To be sure, some parents don't want to expose their little ones to the sugar in frozen yogurt from shops, so if you fit that bill, then this trick isn't for you. Instead, you might want to try making these healthy sounding yogurt baby pops from the blog Peas & Crayons.
You also could try making your own popsicles using baby-and toddler- friendly yogurt (like Stonyfield YoBaby and YoToddler yogurts), whether in a popsicle mold (like this one from Munchkin) or by sticking a popsicle stick or chopstick in the yogurt directly (to do the popsicle stick trick, follow these instructions from blogger Jillee over at One Good Thing by Jillee).
But if you're okay with letting your young child have an occasional frozen treat out at the local yogurt shop, then this trick may be worth remembering.
What are your favorite ways to save when eating out with a toddler? What are your favorite toddler-friendly desserts and why?
Follow Hint Mama on Facebook and Twitter, and read more about her and her disclosures.