I've only brought my 20-month-old daughter to a shoe store once.
That's not because she's been wearing the same pair of shoes since she started walking eight months ago. She hasn't. Rather, it's because, in addition to taking advantage of gently used hand-me-down shoes, I've been buying her shoes online.
However, when you buy your little one shoes online, you don't have the benefit of an in-store shoe clerk measuring your child's feet, so making sure you're buying the right size can be difficult and involve guesswork. Besides tracing your child's foot on a piece of paper and measuring the tracing, or using an old-fashioned ruler or measuring tape, you're out of luck, right?
Not necessarily. Luckily, shoe retailers are increasingly offering a host of tools to help with at-home foot measuring, and taking advantage of these resources when you're ordering shoes online is today's hint.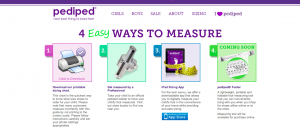 Pediped, for instance, currently offers two options for easy at-home measurements: a printable sizing chart and an iPad sizing App. With the printable chart, assuming you printed it to the right scale, you merely place it against a wall, place your child's foot on it in the specified spot, then do the same with the other foot and voilà, you have your child's shoe size.
Meanwhile, with the App, which pedipad launched in early 2013 to make measuring children's feet more convenient for iPad shoppers, you place your child's heel in a specified spot on your iPad and measure to the longest toe.
In addition, in June 2015, pediped plans to roll out what it calls "the pediped Footer," an at-home measuring device similar to those used in shoe stores, that will retail for somewhere between $5 and $8. Pediped is giving away a $100 gift certificate to one lucky Hint Mama reader – more details on that below.
Elsewhere, Stride Rite also offers a printable "simple size guide," that you can use to measure your child's feet at home, and it works for measuring feet length and width. Umi Children's Shoes offers a similar printable chart as do Shoes.com and Zappos.com.
Soft Star Shoes, meanwhile, offers a host of printable tools to help you make sure you're buying the right size for your kids, while U.K. retailer Start-Rite will estimate your child's foot size based on digital photos you send in using its "Click 'n' Fit" tool.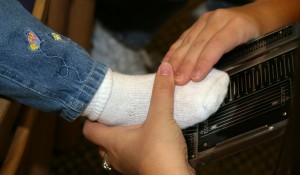 If you don't like any of these tools, there are products on the market to help you, like the $20 Squatchi U.S. shoe sizer and the more expensive Brannock-type devices that shoe stores have.
But since you're not a professional shoe fitter, there's always the chance that you'll measure your little one's foot wrong and the shoe that arrives won't fit. If that happens, you may be in luck, assuming your child hasn't worn the shoe out and about. Pediped, for instance, offers free returns to encourage parents to order the correct size and not keep a shoe that doesn't fit just right.
What are your favorite methods for at-home foot measuring and ensuring the shoe you buy your little one does fit? What are your kid shoe shopping tips? Share your thoughts, and enter to win a $100 pediped gift certificate, below.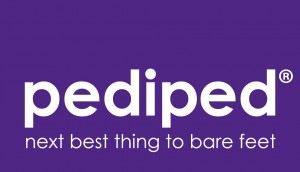 Enter to Win a $100 pediped gift certificate
Follow Hint Mama on Facebook and Twitter, and read more about her and her disclosures.