Once my daughter started regularly eating solid food, my grocery bill started getting a lot more expensive. The costs of special baby rice cereal, reusable pouch yogurts and puffs quickly added up.
However, by the time my daughter was a year old, I had hit on a strategy to cut some of these extra food expenses. No, I didn't make the switch to all homemade baby food, which as a working parent is easier said than done.
Rather, my husband and I started eating the same food as our tot, a money- and time-saving strategy that is today's hint and that I cover over at U.S. News Money's The Frugal Shopper blog in a post on 3 ways to ave money on baby food.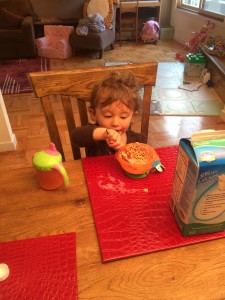 For instance, for breakfast, we buy staples like Cheerios, Special K and bananas that we all eat, my daughter included. Meanwhile, for dinner, rather than making two meals (one for my 20-month-old daughter and one for my husband and me) like I used to, I now make one dinner that we all eat.
Want an example of such a meal? Instead of making my daughter a bland chicken dash with a side of cooked vegetables, I now serve her the tofu fried rice or chicken tacos we're all eating, making sure to cut her serving up, of course. Or we all have a sweet potato side dish along with our main chicken and fish course, and when we order in, we get dishes that we all can share (my daughter is a big California roll fan).
The result is that I'm now spending less time on cooking, and we're using more of the food we buy, than before, so there's less waste. In addition, some experts say it's actually good for children to be served the same foods as the rest of the family to help expose them to a variety of foods and nutrients.
To be sure, this budget-friendly strategy probably works better once your baby has been introduced to a host of foods (unless you're doing "baby-led weaning" – more on that below). It's also likely harder to follow if your baby is allergy-prone.
In addition, I'll be the first to admit that it's also resulted in us changing our dinner menu to be more toddler-friendly at least once a week (think a main course of chicken nuggets, fish sticks or Mac and cheese), and I'm snacking on more Goldfish crackers than I'd liked to be.
Still, I'm not the only fan of eating the same food as the little one. The site The Wholesome Life also suggests eating the same food as your baby or toddler, noting that this a great way to "lead by example" and "maybe rethink your own food choices and diet." Meanwhile, Netmums.com suggests it as well in a piece on "one meal for all the family" (with some helpful tips on how to do this approach if you have a picky eater), as does The Bump in a post on "how to make one meal for the whole family" (with some delicious-sounding recipe ideas) and the site DancingCarrots.com.
Elsewhere, it's also a part of the "baby-led weaning" philosophy to introducing solid food. As the site What to Expect notes in a piece on baby-led weaning, "you can offer your honey almost any healthy meal that the rest of the family is eating, as long as you present it safely." Meanwhile, Dr. William Sears writes over at Parenting.com that "between 1 and 2 years of age, your baby can slowly begin to eat the same foods as you."
Finally, because your grocery bill is guaranteed to be more expensive after the introduction of solids if you buy completely separate food for the adults and little ones in your family, this eat-the-same food strategy is at least worth trying if you can, and there are ways to make it fun for your little ones, like serving the food in a muffin tin.
Read all three of my tips for saving money on baby and toddler food in the full post at The Frugal Shopper blog.
How do you cut the cost of baby and toddler food?
Follow Hint Mama on Facebook and Twitter, and read more about her and her disclosures.