The Internet is chock full of toddler activity ideas. However, many of them involve significant prep time and or special materials.
While I'd love to be able to try them out, as a working mom, I just don't have the time (and I'm not sure I'd have the time to devote to such activities even if I was a stay-at-home mom). Rather, I like toddler activities that take only a minute (or more accurately, a few seconds) of prep time and are easy to do with items I have on hand.
That's why I so love the easy toddler activity idea I learned from Jessie Stansberry, who blogs at Berry Sweet Baby. It's a simple trick to keep toddlers occupied that is today hint.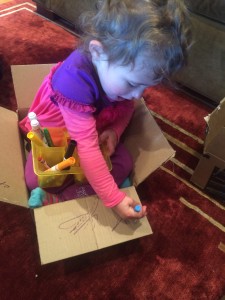 The activity: Plop your little one in an empty cardboard box you have around the house and give him or her some crayons or markers to decorate the box with. In her widely pinned post on the trick entitled "Box + Crayons – Zen Activity for Two Year Old," Jessie shares how a box, two crayons and some relaxing music kept her 2-year-old son occupied for a full 45 minutes.
Since I first read Jessie's post last fall, I've tried the box and art supply trick numerous times, pretty much every time we have a large enough box around the house (which is frequently given how often I order diapers and other gear online). As you can see from the photos in this post, it works. A box, crayons and markers can keep my daughter occupied for at least 15 minutes, forever in toddler time.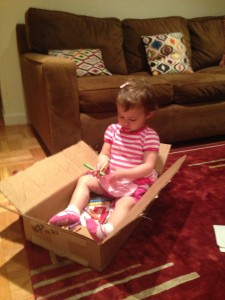 My 20-month-old daughter seems to love sitting inside a box and drawing on it. In fact, one evening earlier this week when we had an empty box in the living room, my tot went into the kitchen and grabbed her art supply caddy. She then returned to the living room and climbed into the box with her crayons and markers.
Other parents are also fans of this toddler activity. A Facebook page entitled "Don't Eat the Paint," focused on fun baby and toddler activity ideas and crafts, cleverly calls the trick "cardboard box graffiti" and suggests putting a toddler in a cardboard box with "pens and stickers and let them decorate the box to their hearts content." Meanwhile, you can find more images of the simple activity over at Pinterest.
If you're little one isn't into drawing, there are other easy, no-prep-required activities you can do with a simple box, including pretending it's a boat, a car, a train or anything else your little one and you can imagine. You can find some inspiration for very easy box boats on the blog Bubba Blue and Me as well on the blog You, Me and Teddy. Empty toy boxes also work great for play.
Don't have empty boxes around your house? Check out your local grocery store and drugstore to see if they have any free ones, and try to remember to save the boxes you'll surely have around the house later this year during the holiday season.
What are your favorite easy toddler activities? What other simple activities involving cardboard boxes does your little one like? Share your thoughts below.
Follow Hint Mama on Facebook and Twitter, and read more about her and her disclosures.