Before my daughter was born, I spent a lot of time researching which baby gear items to get. However, I primarily focused on products necessary for the first few months of life, figuring I'd have plenty of time to find items like the perfect sippy cup down the road.
Well, once my daughter was born, there wasn't as much free time as I had imagined, and I ended up just buying whichever sippy cups were available at our local drugstore and grocery store, adding them to the collection of sippy cups we received as gifts.
The result is that my 19-month-old daughter has a hodgepodge of sippy cups and straw sippy cups of all different brands and styles (see the image above), and we don't use a number of them anymore since we've lost either a lid, a sippy spout or another key part, and haven't gotten around to buying replacement parts yet (though we have come up with a clever fix-it hack for one sippy straw cup).
This is why I wish that I had gone from the get go for just one brand of sippy cups where all the cups, no matter their style, come with interchangeable lids, a feature of certain sippy cup brands that I just learned about recently and a baby gear buying strategy that is today's hint.
So which sippy cup brands fit this bill? The First Years brand sippy cups feature lids that are interchangeable across the brand's sippy cup line, a feature the brand calls the "One Piece Lid." The First Years now offers about two dozen sippy cups with interchangeable lids, up from roughly just two styles in January 2013, when the brand first rolled out the feature. The First Years is giving away three sets of its sippy cups (such as those in the images below) to one lucky Hint Mama reader – enter below.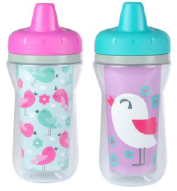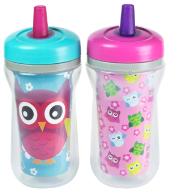 Within The First Years' two dozen models with interchangeable lids, you can find traditional sippy cup designs as well as soft spout and straw sippy cup models, and The First Years says the "One Piece Lid" feature makes "it easier for parents to mix and match cups and lids."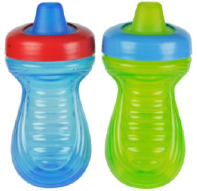 Among other brands, the Oxo Tot Web site says that all Oxo Tot Sippy, Straw and Training Cup lids are interchangeable, while the Playtex site similarly notes that lids are interchangeable on all Playtex cups (a feature moms, like one over at What to Expect, seem to like).
In addition, if you really plan ahead, you can opt for bottles that can transform into sippy cups. For instance, Philips Avent says in its marketing materials that the spout and handles on its sippy cup models (including this one) can be used with all Avent feeding bottles and cups, and you also can buy Avent sippy cup parts separately and just pop them onto the bottles (as at least one parent commenting over at the Baby Bargains site has pointed out). Meanwhile, parents commenting over at Amazon.com say they have similarly transformed Nuk bottles into sippy cups using Nuk replacement silicone spouts.
To be sure, if you just buy multiple versions of the same sippy cup, you'll automatically get interchangeable lids and handles. But going for an entire brand with such features allows you to experiment with different types of spouts and straws.
What are your sippy cup buying tips and favorite sippy cups? What interchangeable sippy cup brands did I miss?
Share your thoughts below and enter to win one set of The First Years Soft Spout Cups, one set of The First Years Insulated Sippy Cups and one set of The First Years Straw Cups.
Follow Hint Mama on Facebook and Twitter, and read more about her and her disclosures.