Forget baby shower games like guess the baby food or the size of the guest of honor's belly.
Today's hint is seven clever ideas for baby shower games that will help save the parents-to-be money or time because they result in usable items for baby or mom and dad.
1. Paint Nursery Wall Letters. Specially designed nursery wall letters can get expensive, as I learned the hard way.
Shower hosts can help their guest of honor save on these costs by buying wooden letters that shower guests can decorate at the main event, or each guest could be responsible for bringing a certain letter to decorate, as Amber over at Discount Queens points out.
At her baby shower, for instance, a clever friend of mine had her guests paint and decorate A to Z wooden letters in various sizes that she bought from Michaels. They're still in her son's room today, says my friend, who is the same one who creatively marked her daughter's first 12 months in photos and made creative holiday card photos. Looking for more inspiration for this shower "game"? Blogger Living Savvy shares a bunch of helpful details on how this activity worked at a shower she threw for her friend.
2. Decorate Onesies. For this activity, shower hosts would have plain onesies out for guests to decorate. Consider buying them in a range of sizes, from newborn up to 24 months, so the outfits will last the guest of honor for years, as suggested over at the site GrandmasNurseryRhymes.com.
At the party, have fabric paint (think puffy paint) and brushes out for guests to use, and also consider having a tie-dye station as well, a fun idea recently featured on Well Rounded NY. For some more onesie decorating station inspiration, also check out these shower pictures over at ontobaby.com.
3. Design bibs. This "game" is similar to the onesie-decoration idea above, but guests would decorate simple white bibs using paint or markets (waterproof preferably). Over at Parents.com, Patty Adams Martinez shares how at her shower, "everyone designed bibs using waterproof markers, so they're safe to wash without erasing the doodles." In addition, the handmade bibs, she wrote, "are what I will forever cherish."
4. Literally Decorate the Nursery. For this "game," the shower would be held in the guest of honor's place and guests would literally decorate the nursery, and help get it baby ready, as the shower activity. BabyZone covers this idea in a nice roundup called "The Best Baby Shower Games Guide" and suggests focusing on small, meaningful tasks such as stencil decoration or glow-in-the-dark star installation rather than full wall painting. You also could have removable wallpaper strips or decals available for guests to hang.
5. Customize Baby Blocks. This "game" requires a block for each guest to decorate. The blocks can be wooden blank ones as they were at this baby shower featured over at bumpsmitten. Or the blocks could be regular old alphabet blocks that guests paint pictures onto, as was the activity at blogger one little minute's shower for her second baby (guests each decorated three of the blank sides with images and wrote a message to the pending bundle of joy on the fourth blank side).
6. Create a custom ABC book. Another fun idea, featured over at Babble.com in a post on a "Not So Lame Baby Shower Game" and over at ontobaby.com, is to assign each guest a letter of the alphabet and then have them draw an image on a piece of card stock representing that letter. Then, the hosts would compile the images into a photo album, creating an instant educational ABC book. Elsewhere, Red Envelope includes a variation of this idea in its helpful baby shower checklist: "have guests sign different letters of the alphabet with messages for baby."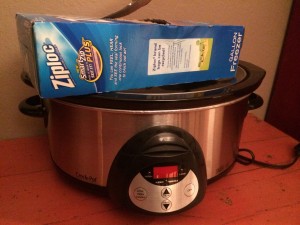 7. Make freezer-ready meals. Finally, a really creative idea from a What to Expect mom is to have guests each create a crockpot freezer meal (ie, a bag filled with ingredients that can be thrown right into a crockpot). As the mom describes it, each guest would be provided with a large ziploc freezer bag and would pick ingredients to put in it from a buffet of options. And the guests could chip in on a crock pot as a shower gift, if the guests of honor don't have one.
To be sure, there are other related ideas that didn't make my top seven, like having guests make mobiles or decorate diapers with funny messages. But the ones I included in my list are those that I think are most feasible – and useful.
And of course, these baby shower activities and crafts are likely to be a lot messier than measure-the-belly and other common shower games. But isn't encouraging guests to create something meaningful – and practical – worth the mess?
What useful baby shower games did I miss?
Follow Hint Mama on Facebook and Twitter, and read more about her and her disclosures.