For the first year and a half of my daughter's life, my husband and I spent at least a couple hundred dollars on one specific baby gear item.
The money didn't go toward a relatively expensive item like a stroller, nor to necessary basics like diapers and wipes. Rather, I'm embarrassed to admit that we spent that hard-earned money on refill bags for our two Diaper Dekor Plus diaper disposal systems.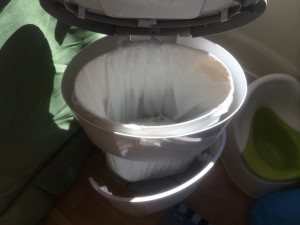 When we ran out of our last refill pack last month, however, I was determined to find a cheaper alternative to the Diaper Dekor branded refill bags. So, we tried a regular old Glad Tall Kitchen trash bag, putting it in around the inside basin and securing it with a knot (see the image below). Turns out, the bag works just fine, both at keeping in the odors and at holding lots of dirty diapers. And since it's a big bag, we empty the bin every couple days.
This is why today's hint is to consider using regular old trash bags in your diaper disposal bins, whether they're Diaper Dekors, Diaper Genies, or other similar models that come with special refill bags.
Don't trust me? I'm not the only parent who has found that regular trash bags work just as well as special refill bags. "We use trash bags all the time," one new mom told me, and another mom commenting over at Frugal Village noted a while back that she lined her Diaper Dekor with a regular kitchen trash bag, writing "voila! Fits nicely too I might add. No need to buy refills or an extra garbage can."
Elsewhere, a parent with a Diaper Dekor commenting over at the Baby Bargains site back in 2004 noted that "Maybe this is old news, but did you know you can use regular trash bags in these?. . . . Kitchen trashbags are thicker, and better quality…and cheaper! I'm kicking myself for not figuring this out earlier." So am I.
To be sure, with some of the diaper pail models, you need to do more than just put the trash bag in. Blogger Mother's Realm gives a helpful how-to, for instance, on how to install generic recycling bags into Diaper Genie models, a trick she estimates saves her family about $180 a year.
Still working on your baby registry and don't have a special dirty diaper bin yet? You might want to consider going from the get go for a model designed to work with regular old trash bags, like the Ubbi, First Years Clean Air model or Diaper Champ by Baby Trend. In fact, Liz Gumbinner over at Cool Mom Picks recommends the Ubbi partly because "it accommodates any garbage bags at all, and not special ones available at that one store that's always closed when you remember you're out."
Or you could just use a regular old covered trash bin as moms suggest over at Hellobee suggest, if  you can remember to take out the diapers every night along with your daily trash. As the authors of the book Baby Bargains, my go-to baby gear source, note, "stick a dirty diaper in a regular trashcan and you may quickly perfume your entire home." They write that stainless steel regular trashcan models tend to keep the stink in better.
What are your tips for disposing of dirty diapers?
Follow Hint Mama on Facebook and Twitter, and read more about her and her disclosures.