My daughter is long past the bottle stage, yet we still have our First Years Spinning Drying Rack for bottles prominently placed in our kitchen next to the sink.
The reason: We use the rack as our kitchen drying rack, drying everything, from hand-washed wine glasses to plastic bowls still wet from the dishwasher, on it.
While there are certain kitchen accessories for parents of infants, like bottle sterilizers, that are on my waste-of-money baby product list, baby bottle drying racks don't make that list. Their usefulness even after the bottle stage makes them well worth the money and is today's hint.
Others have also noticed that the racks can dry more than baby accessories. A writer at Modern Day Moms recently covered how she "managed to dry my coffee pot & knives" on her Boon Lawn countertop drying rack, and a friend of mine says she dries her chef knives and steak knives on such a rack's fake -grass drying blades, which hold the knives "perfectly in a row." Meanwhile, reviewers on Amazon.com have used the rack for drying wine glasses and mugs. Enter to win a Boon Lawn drying rack, and fly drying rack accessory, below.
There also are non-drying related ways to upcycle the racks, tips worth considering if you already have a regular old drying rack and are considering getting a special bottle drying rack to keep the baby gear separate.
One friend of mine uses a grass-like rack with flower and trees accessories as a jewelry holder for bracelets and necklaces. Meanwhile, another crafty friend of mine plans to turn her drying rack into a "great place to put messy art projects while they dry," as Julie Kirkwood did in an activity she designed for Kiwi Crate.
Elsewhere, a reviewer on Amazon.com said she used the rack initially as a coupon holder, while Shannon of the blog Jozi turned one of the racks into storage for finger puppets.
Finally, the racks also can be used for other purposes, and could even be art in themselves.
The rack manufacturers, meanwhile, cite this kind of usefulness in their marketing materials. Tomy, which makes the Boon Lawn countertop drying rack (and the new smaller Patch drying rack) as well as the First Years products, points out that the racks are not just for baby stuff. For instance, the Boon site declares that "the flexible grass blades hold all your just-washed baby accessories. (And whatever else you want.)"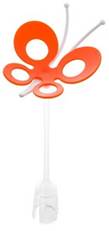 What other uses have you found for baby kitchen accessories, and baby gear in general, that your kids have outgrown?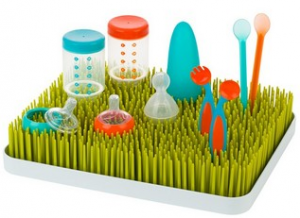 ENTER TO WIN A BOON LAWN COUNTERTOP DRYING RACK & FLY DRYING RACK ACCESSORY
Follow Hint Mama on Facebook and Twitter, and read more about her and her disclosures.