My daughter recently graduated from regular old sippy cups to sippy-type cups and bottles with straws.  Unfortunately, one of her new straw cups of sorts – an Oxo Tot Twist Top Water Bottle – quickly went out of commission after we somehow misplaced the main straw part.
But the water bottle is back in action now, thanks to a fix-it hack that is today's hint. If the straws to your little ones' cups have also been taken by "the sippy cup straw bandit," as one What to Expect mom puts it, today's hint is to replace a lost or broken straw with part of the dispenser straw from an old large shampoo or conditioner bottle.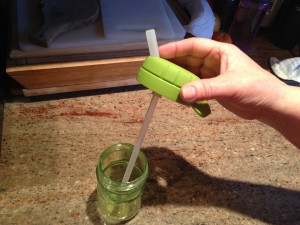 To restore the straw on my daughter's cup, a clever caregiver took the straw dispenser from an old, empty 44 oz. conditioner bottle we had around the house, and cut part of it off to match the size of the cup. She then sterilized the new straw, washed it in the dishwasher and inserted it into the cup's straw spot (see the image to the left), where it fit – and worked — perfectly.
To be sure, this fix isn't for those wary of exposing their little ones to whatever chemicals may still lurk in a DIY replacement plastic straw after washing.
It also probably won't work for all straw sippy cup and bottle models. In addition, the DIY trick isn't guaranteed to perform well as a new cup or an actual replacement straw, which it turns out many straw cup makers (including Oxo) sell. Angie Wynne over at Baby Cheapskate offers a nice roundup of where to find replacement sippy cup straws and spouts.
Still, the fix may be a good option to try, even if just during the wait for a replacement straw in the mail.  What are your sippy cup, and sippy straw cup, hints? Share them below.
Follow Hint Mama on Facebook and Twitter, and read more about her and her disclosures.