I'm one of those moms. I rarely let my toddler leave the house without a colorful barrette in her hair. However, because my daughter's hair is so fine, the barrettes often slip out and get lost, and her little barrette collection frequently needs to be replenished.
This is why I so love a trick I recently learned for how to easily make regular baby barrettes a bit more likely to stay in little ones' hair, a hack that is today's hint.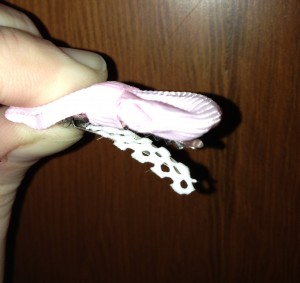 The strategy: Glue nonslip shelf liner onto the inside of one side of the clip (see the picture to the left). I tried the trick, using some extra shelf liner we have around our house, and so far, my daughter's barrette has stayed in better than before.
I first learned this clever DIY tip from Kristin, the blogger at A Simply Enchanted Life and who shared the strategy here, and I've since come across others advocating it, including Angie at Treasures for Tots, Sarah at Create Studio Blog & Shop and a commenter over at Rookie Moms.
It turns out that hair accessories aren't the only things nonslip shelf liner can help with. As Parent Hacks has pointed out, the liner can also help keep puzzle pieces in place and keep toddlers in their chairs. Meanwhile, shelf liner isn't the only thing that can work to help keep barrettes in place. Other similar tips I came across involve gluing a piece of a rubber band or a piece of velvet ribbon onto a barrette.
If rather you'd rather not glue something onto your tot's barrettes and you want hair accessories that may be less likely to fall off and get lost from the get go, there are a host of hair accessories on the market designed to slip out of baby hair less.
Baby Wisp, for instance, says its mini latch clips "are designed for true baby wisps" and will tightly clip on to as little as one hair, while No Slippy Hair Clippy makes baby bows "designed exclusively for baby-fine hair." Elsewhere, Moo G says its clips "stay in place," and you can find other no-slip designs on Etsy. In addition, these are just a few of the many similar other options available.
To be sure, some parents stay away from barrettes because they can be choking hazards, especially if your little girl likes to pull them out and she's wearing them unsupervised. If you fall into this category, moms over at What to Expect suggest trying out rubber bands.
What are your tricks for keeping hair accessories in baby and toddler hair?
Follow Hint Mama on Facebook and Twitter, and read more about her and her disclosures.