One of my daughter's favorite mealtime games: Dropping her food and drink on the floor while she's in her high chair. We're working on curbing this bad habit — we say "no" and take her out of the high chair when she starts making her food mess.
Still, we're often not quick enough to prevent some food from getting on the floor, and cleaning up the meal aftermath is not a fun job, especially if we're traveling and mealtime is occurring on a dining room carpet in a rental or relative's home, rather than on a hardwood floor.
Recently, however, we figured out two frugal ways to capture the mess, courtesy of my brother-in-law and mother. So, before you spend money on a special splat mat to catch your little one's mealtime mess, today's hint is to consider one of these cheaper and easier options, especially if you're in need of an immediate fix.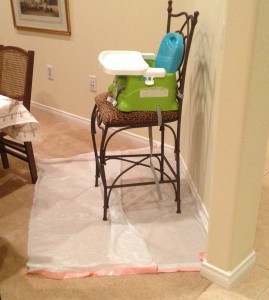 1.) A trash bag. My brother-in-laws clever trick: Cut a plastic trash bag open so it can cover a wider surface area and place it under the high chair.
2.) A plastic bag from the dry cleaners. According to my mom, a plastic bag from the dry cleaners placed under a high chair "works wonders" as a do-it-yourself splat mat.
Not only can both of these approaches save you money, they also can save you time cleaning up. If you bought a special splat mat, you'd need to clean that up as well. In contrast, with these solutions, at the end of the meal, you just need to put them in them in the trash.
To be sure, if you have a dog, this problem is a non-issue. And you'll want to throw these DIY mats away before your little one can access them, as plastic bags aren't child friendly.
But if these options don't strike you as very environmentally friendly (or you're afraid of the chemicals that might be lurking in dry cleaning bags), you could use a sheet, plastic shower curtain or table cloth (as people commenting on the Baby Bargains Web site cleverly suggest), or you could make a DIY splat mat yourself.
Over at Hellobee, you can find helpful tutorials for making such mats, including one for a no-sew option for the not so crafty. Christina Dennis, The DIY Mommy, also shares a nice no-sew splat mat how-to, as does Nathalee over at Mommy Beta.
What are your tricks for cleaning up mealtime messes?