During our Thanksgiving week in Cleveland, though we stayed at my in-laws' place, we spent a lot of time at my sister- and brother-in-law's new home.
Though they have five kids, all their children are aged three or above, meaning, as my sister-in-law told me, childproofing didn't cross their minds when they were doing renovations. As a result, the house, while lovely, has lots of stairs, toddler-accessible doorways and other not-childproof friendly features.
As a result, I was a bit of a stress case whenever we went over there, following my curious toddler around the house and then coming up with my own quick method for making our visit a little more childproof — when we were all hanging out in one room, I would block off the exit, and a nearby stairway, with an ottoman, chairs and or even myself (see the image above).
I'm not alone. As Kimberly Winsch, aka Destination Mom, puts it: "Sometimes it can seem overwhelming when visiting childless friends or family to keep your child out of harm's way." When we returned home, I wondered if there were some other easy-to-implement (and not over-the-top crazy) quick and temporary childproofing approaches that I had missed, so I checked in with travel expert Ms. Winsch, who blogs for travel childproofing product company Travel-Tot; childproofing expert Colleen Driscoll, the executive director of the International Association for Child Safety Inc; and friends. In time for holiday party and travel season, today's hint shares the tips I learned for safely visiting an unchildproofed home.
1.) Do a quick scan. When you first arrive, Ms. Winsch suggests taking a few minutes "to explore the room on your hands and knees from the perspective of your child." During the quick scan, you should look "under furniture and behind drapes" for potential choking hazards (i.e. what would fit into an empty toilet paper roll — think pills, pins, buttons, etc.) and other easily-reachable fragile, top-heavy or hot objects. Ms. Driscoll says to also check for easily-accessible breakables, easily-accessible handbag contents and easily-accessible medicines.
2.) Rearrange what you can. While there's definitely a limit to how much you can rearrange at someone else's house (if you still want to be on their invite list), move the choking hazards and other easily-accessible dangerous items (including hanging window blind cords) that you can to higher spots, where your little one can't easily access them.
3.) Moveable furniture is your friend. My furniture moving technique was right along the lines of what Ms. Winsch suggests. Her tip: situate the moveable furniture in the room where you and your toddler are such that it "effectively closes or blocks off access points for stairways and doors (which should be kept gated or closed as well)." According to Ms. Winsch, these "suggestions can help make visiting childless homes a bit easier on you (and your child)."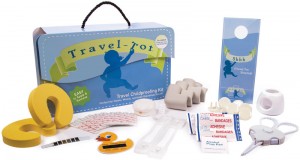 4.) Consider portable childproofing products that you can bring – and take – with you.  One of my friends recommends carrying a bag of outlet plugs in your purse or diaper bag for just these situations. In addition, as I recently mentioned in a piece on travel childproofing tips, there are portable childproofing products that can make childproofing on the go easier. Examples include portable travel gates (like this one from Baby Dan), and a $35 to $40 portable childproofing kit from a company called Travel-Tot (where Ms. Winsch is the resident travel blogger). The kit includes removable, and reusable, childproofing products like foam corner guards and cabinet locks. Win a Travel-Tot kit. I've got one to giveaway:
5.) Rotate child-watch duty. Of course, there's no replacement for adult supervision, especially when it comes to extra dangerous spots like stairs. Still, it can be hard to mix socializing and constant supervision. For that reason, Ms. Driscoll suggests designating an adult to watch your child and "rotate watching duty, "similar to the concept of a "water watcher" at the pool.
To be sure, rather than worrying about going (and appearing) crazy childproofing your friend's place, you can entertain at your place instead. When her children were young, if her friends didn't have children and a childproofed place, "we invited them to our house," Ms. Driscoll says. "Otherwise, you might be facing a stressful evening holding your baby or following your child, who might be faster than you think" at finding hazards.
But if you don't want to settle for always staying in, the tips above should help, and so could today's giveaway.
What are your tips for doing quick on-the-go childproofing when you're out and about at friends' or family members' homes?
Follow Hint Mama on Facebook and Twitter, and read more about her and her disclosures