I'm embarrassed to admit how much I've spent on childproofing my home since my daughter first began to crawl and then walk. The costs of gates, corner bumpers and cabinet locks can quickly add up, especially when you add in the price of professional installation.
I rationalize the expense, however, by thinking of all the money I've saved by employing some simple strategies to cut my childproofing costs without sacrificing safety. In other words, I would have spent even more if I hadn't: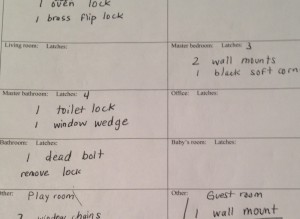 1.) Covered unused outlets with furniture. Instead of buying covers for outlets we don't use, I followed a frugal babyproofing trick I learned from the book Baby Bargains: Move heavy furniture in front of unused outlets to hide them.
2.) Used distraction to childproof at least some of our cabinets and kitchen drawers for free. To keep my daughter away (at least for now) from the few kitchen cabinets and drawers that don't yet have properly functioning locks (and to potentially cut down on the number of safety locks I'll need to buy), I transformed some wine cubbies in the kitchen into a play area for her (see the transformation here). I filled the cubbies with her toys and safe kitchen items (like measuring cups).
Meanwhile, I'm also considering hiding some of the knobs behind dish towels or other items, a variation of the distraction method I mention above and a trick the site Parent Hacks covered a while back. And of course, I made sure all toxic chemicals and choking hazards are secured in cabinets out of my daughter's reach or are in locked cabinets.
3.) Skipped buying unnecessary childproofing products like crib rail and toilet paper guards. Instead of buying a special guard to protect my daughter's crib rail from her teeth (and to protect my daughter's teeth from crib wood and paint), I use two old swaddling blankets as a protection method (see how the blankets are tightly tied around the crib rail here).
In addition, instead of buying a special product to protect toilet paper from my daughter's little hands, I put the rolls in so that the paper has to be pulled upward rather than downward, making the unraveling task a little more difficult for a toddler, and I also try to keep my daughter out of the bathrooms.
Read all seven of my tips for cutting the expense of childproofing, including clever cost saving tricks and tips from professional childproofers, in the full post on the site Living on the Cheap, where I'm a contributor.
What are your tips and tricks for lowering childproofing costs?