For our recent vacation, my husband and I didn't want even more luggage to worry about losing. So we didn't pack as many of my daughter's toys as we did for past trips. Yet, during the trip, my daughter was perfectly happy during downtime in the hotel room. One reason: The free travel toy we easily made for her.
I recently wrote about how junk mail (especially catalogs), shoeboxes and water bottles make great toddler non-toy toys. Well, here's another item to add to the easy and frugal non-toy list: tourist brochures, like the colorful pamphlets that are ready for the picking in brochure displays at hotels or that concierges pass out. Today's hint is to turn tourist brochures into vacation and travel toys.
During our recent trip, my husband and I saved the brochures the concierge gave us when we checked into the hotel, thinking that our daughter would enjoy playing with them. And we were right: Our toddler enjoyed flipping through the colorful pictures of swim-with-dolphin and dinner cruise adventures during downtime in our hotel room. In other words, the brochures made great free toys.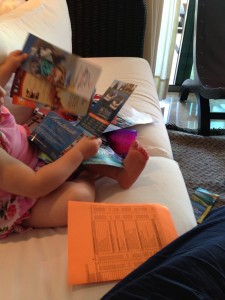 Turns out she isn't the only one who likes playing with such brochures. For instance, another mom wrote online that her 19-month-old daughter's favorite summer travel toys "were the travel brochures we picked up at a rest stop along the way."
To be sure, the brochures weren't great enough toys that we brought them home with us. Still, they did help keep our daughter entertained during our trip and were a good temporary trip toy solution that enabled us to pack a bit lighter.
What are your favorite travel toys?