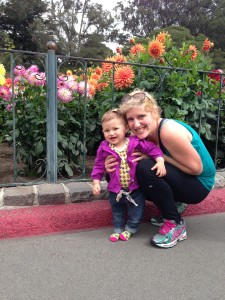 I recently wrote about what I believe is the best postpartum workout – exercise classes geared to new parents where you can bring your baby along. Think Baby Boot Camp, Stroller Strides and Strollercise classes.
Today's hint is another fun way to work off the Halloween candy and holiday season calories while avoiding babysitter fees. The hint: Spend a day running around a local park with your little one in a stroller, stopping along the way at various playgrounds and attractions.
For instance, as I mention today on the site 510families.com in a piece on "3 super daytrips with a one-year-old," one of my husband and my favorite things to do during the weekend is to jog around Golden Gate Park with our daughter, stopping along the way to smell the flowers (literally at the Conservatory of Flowers) and visit the other kid-friendly park spots like the park's great playgrounds, and then grab lunch at a nearby restaurant called Pacific Catch.
Not only does this workout method allow us to check exercising off our to-do list, it also provides my daughter with a lot to see and do. You could do variations of this in your local neighborhood by running to a local playground and taking a break there so your child can play for a bit and you can stretch.
To be sure, you probably won't burn as many calories as you would running on a treadmill or exercising without taking so many stops. Still, any exercise is better than none. And as Anna Harris points out on CafeYak.com, including your child in your exercise routine "allows you to work out and spend time together."
You can read about more of my San Francisco area activity pics for young toddlers on 510families.com.
What are your favorite ways to workout with your little ones?