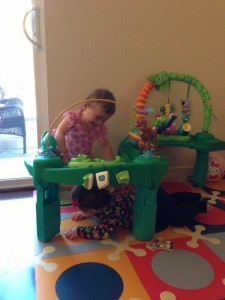 Like many parents-to-be and new parents, I spent an embarrassing amount of time agonizing about whether to get an exersaucer or a jumperoo for my daughter. Based on what I read in the book Baby Bargains and recommendations from friends, I ended up going with a Fisher-Price Rainforest Jumperoo.
While my daughter enjoyed jumping in her jumperoo once she was big enough to do so, she only used the product for a short window of time. Once she could crawl and pull up, she no longer wanted to be trapped in her jumperoo and would generally cry until we took her out.
This is why, in retrospect, I wish I had gone with a certain type of exersaucer instead. And today's hint is that other parents debating whether to go with an exersaucer or a jumperoo consider the model style I wish I had opted for instead.
The model: one of the exersaucers that open up into an activity table of sorts once a child no longer wants to sit and jump around.  The Evenflo Triple Fun ExerSaucer is one example. While slightly more expensive than a jumperoo, such a product can be useful for many more months, if not years, and thus, in my opinion, is money much better spent.
My daughter's cousin has such an exersaucer and now that she can pull up, it's opened up into an activity center. While my toddler is long past wanting to hang out in her jumperoo, she loves hanging out at the activity center at her cousin's house. Others like this model as well, including blogger Noah's Dad, who includes it on his list of the top three exersaucers to get.
To be sure, some parents prefer to get both models. And we could have left the jumperoo (now in our garage) in our living room and encouraged our daughter to use it as a circular activity table of sorts. But she didn't seem to want to play with it once she outgrew jumping in it. Plus, the round product takes up a lot of space.
Which do you think is more worth the money – an exersaucer or a jumperoo – and why? Which did you opt for and why?