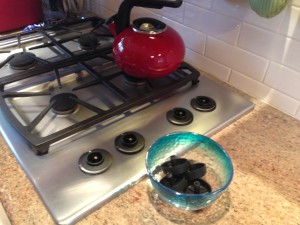 To save time as a working parent, I'm an advocate of hiring a childproofer to help with babyproofing. So now that my daughter can walk and reach all of our kitchen drawers, I recently had a childproofer come to our place.
While much of what we need requires his products and installation expertise (no surprise), he did share a tip for how to easily childproof stovetops for free that I was able to do right on the spot and that is the subject of today's hint. The trick: Rather than buying special stovetop covers that little ones may easily learn to take off, simply pop the knob covers off, put them in a bowl by the stove and put them back as needed.
The tip, which one of my friends also recently passed along, works like a charm and variations include putting the knobs in a drawer or other secured spot. Others also recommend this approach, including Baby Center and the Alpha Mom blog.
But what about securing the stove when you're cooking? Besides only popping on one knob as needed, the childproofer also recommended making sure to cook on the back burners when my little one is around and to keep the handles on pots and pans facing away from me toward the wall.
What are your tips for childproofing stoves and other kitchen appliances?