I've held off on buying my daughter a small swimming pool for our backyard. I just figured we wouldn't use it all that much thanks to San Francisco's foggy weather. Plus, our Munchkin toddler tub has so far worked just fine as a makeshift pool on the few days warm enough for outdoor wading.
Now, however, I'm seriously considering purchasing a small kiddie pool. Why? I've recently learned about four clever ways that the pools can be used for parenting purposes beyond swimming, making them well worth the investment. And now that winter is approaching, the transformations that make up today's hint mean you can make your small pool useful year round: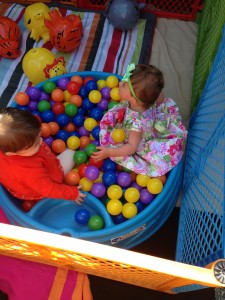 1.) A DIY ball pit.  For my niece's first birthday party, my sister created a ball pit inside of a small and rigid plastic wading pool (like this one). She bought a bunch of ball pit balls (like these) and filled the pool up with them, making a party pit that was a hit with the toddlers and bigger kids alike. And my sister isn't the only one who has made this transformation. Beltway Bargain Mom recommends it as well, as does Jamie at This Little Home of Mine.
2.) A floor & carpet protector.  Heloise, in my big blue book of her hints, suggests an idea I love: Seating small children in a small plastic pool when they eat in front of the television. As she writes, this approach generally means "no spills or goo on the carpet to clean up!" Though I could see having challenges keeping kids in the pool, the hint is worth trying (separately, she also suggests putting high chairs in the plastic pools to help prevent floor messes, but I could see that being dangerous).
3.) A beach playpen. Live near the beach or heading on vacation to one anytime soon? An inflatable pool can serve as a great playpen at the beach.
4.) A toy bin.  Another smart idea from Heloise: use a pool to store toys, whether away under a bed or out in the play area.
Beyond the four ideas above, these two ideas are worth an honorable mention: turning a pool into a sandbox (though I could see that being really messy) or a bubble-themed party prop.
You can also repurpose the small pools in a host of non-parenting related ways, meaning the pools can still be useful when your kids outgrow them. Other transformations I came across while researching this post include turning the pools into patio gardens, flower beds, party coolers, a puppy delivery spot, makeshift wheelbarrows, cat litter boxes, a fountain and a Halloween decoration.
What other uses have you found for kiddie pools, especially when the weather cools off?