When I decided to buy my daughter a little table and chairs for her first birthday, I asked my Facebook friends: "Any recommendations for play tables and chairs?
The majority of responders had this recommendation: the Ikea LÄTT table and chair set.  I followed their guidance and bought the little table with two chairs from Ikea for the beautiful bargain price of $20, and the purchase has worked out perfectly. That's why today's hint is that other parents in the market for a similar table set consider going with the Ikea model.
The set is much sturdier than I had imagined (even I can sit on the chairs fine), and my daughter loves to hang out standing at the table, or sitting on one of the chairs, "reading" her board books and playing with her puzzles. My friend, who has had the table for more than a year, says it's "still holding up great." So I plan to turn it into a kids' dinner table for when my daughter graduates from the high chair and we have guests over.
Of course, like everything from Ikea, you need to put the table together yourself (if you're short on time or skills, consider hiring a TaskRabbit to help). Also, be aware that the table is retailing for double the price at other outlets, like Amazon.com.
If you don't like the plain white look of the table, there's a whole blogosphere of DIY ideas for transforming the table with various paint colors and fabrics. Just search "Ikea latt children's table hack" in Google, and for a start, check out the clever DIY ways to upgrade the table's look from these blogs: Little Free Radical, Meet the Sullivans, Effortless Style and Enjoyer of Grace.
Based on my experience so far, there's only one big downside to the table: My daughter has turned one of the relatively lightweight chairs into her walkers of sorts (we have yet to buy her a real walker, as we've been following advice from the Baby Bargains book to avoid walkers for safety reasons). However, this likely would have happened with any table and chair set we bought her.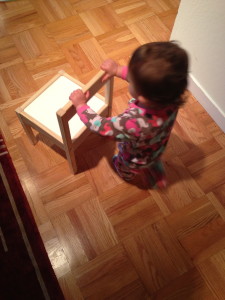 If you still want to shop around, other friends of mine recommended models from Room and Board as well as this model.
What kids' small table and chair set, and furniture in general, do you recommend and why?