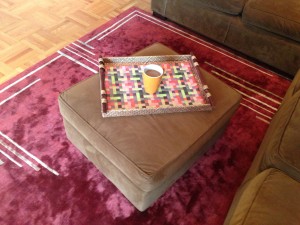 Coffee tables can be hazardous to young children. Some of the easy-to-imagine horrors: Little tikes could potentially bang their head on sharp corners, fall through glass tops or have a table topple on them. In fact, The New York Times wrote a story last year all about these kinds of coffee-table related accidents.
But just because you have a toddler doesn't mean you can't have a coffee "table" in the room where you hang out. Today's hint is to use an ottoman as a coffee table, a trick I copied from my sister-in-law's family room.
Ottomans are generally soft enough for safe encounters with little heads, they are great rest stations for cruising toddlers and they look a lot better than regular coffee tables outfitted with corner protectors. And in researching this trick, I learned that it's recommended by the The Nest and TLC's Parentables, as well as a host of home design blogs including Home Stories A to Z, the Oh Joy blog and The Adventures of Marker Girl.
But what about having a place to put the coffee (and wine glasses)? Just have a tray handy that you can put on the ottoman when you want a place to set down a drink, apps or a meal.
And what if you don't have an ottoman handy? If you're crafty, don't despair. You can actually transform your coffee table – or a cheap coffee table – into one using step-by-step instructions from the Not So Newleywed McGees and the RootsReclaimed blog.
What are your hints for child-friendly coffee tables? Share them below.