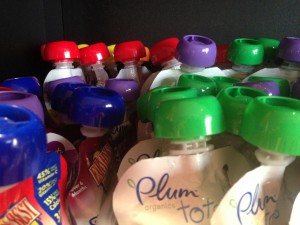 Here's an embarrassing secret: I'm guilty of giving my daughter a food pouch to eat at least two or three times a day.
I blame this on the fact that my toddler refuses to drink milk so pouches with a yogurt, fruit and veggie mix are a great way to get calcium and other vitamins and minerals into her daily. Plus, they are just so convenient, perfect for a quick bite (or slurp) on the go and for my daughter to feed herself with less mess.
But the big problem with my pouch addiction: The premade pouches are really expensive, especially considering that they're only good for one serving. As The New York Times pointed out last year, the pouches cost nearly double the price of baby food in a jar.
Luckily, there's a cheaper, and more environmentally friendly, option I recently learned about from the same crafty friend who designed her own photo iPhone case: Buy refillable empty pouches and fill them up with your own food. Then, after your child slurps out the food, you can wash them and refill them again.
EZ Squeezes refillable food pouches, for instance, are "designed to replace the use of expensive pre-filled food puree pouches." Other similar products include little green pouches, Yummi Pouches, Sili Squeeze pouches, GoFreshBaby pouches and Squooshi pouches (very cute pouches, according to Cool Mom Picks).
You can get three to six of such pouches for around $10 to $20, depending on the brand. So at my daughter's pouch consumption rate, I'd get back my money within a week. Many parents seem to be happy with this approach. "Greatest product since sliced bread!" and "Love these" are some of the Amazon.com review titles, but the designs aren't perfect. Some reviewers complain of problems such as leaks, bad cap designs and difficulty filling.
Still, the reusable pouches (assuming they don't get too dirty) can grow with your child or be used by big brothers and sisters as well. As Apartment Therapy recently pointed out, these pouches work for older kids' lunches too.
So what do you put in the pouches? Blogger Mommy Gearest recently offered some ideas that I'm going to try as soon as my regular-old pouch collection starts running low and I buy a refillable option instead.
What tips do you have for saving money on food pouches?